When death is your business, what is your life? For the Fisher family, the world outside of their family-owned funeral home continues to be at least as challenging as--and far less predictable than--the one inside. From Oscar®-winning screenwriter Alan Ball comes this breakout series that takes a darkly comic look at members of a dysfunctional L.A. family that runs a funeral business. With Peter Krause, Frances Conroy, Michael C. Hall, Lauren Ambrose and Rachel Griffiths. Winner of two 2001 Golden Globe awards for Best Television Series-Drama, and Best Performance by an Actress in a Supporting Role in a Series, Mini-Series or Motion Picture Made for Television (Rachel Griffiths).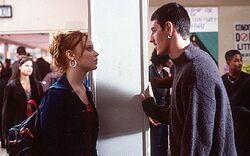 The Foot:
The Fishers have decided to sell, but then back out at the last minute because Nate cannot stand Gilardi. Claire finds a rather interesting way to get back at Gabe for spreading rumors about her. Gilardi threatens the Fishers, claiming to have bought the rundown house across the street as a cheap alternative to Fisher & Sons. However, mysteriously, the house catches on fire after Nate and Brenda fool around in it...
Read more...
Welcome to the Six Feet Under Wiki. Home of the greatest TV show ever!
The free encyclopedia dedicated to the hit TV show Six Feet Under that anyone can edit!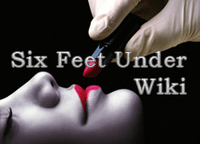 Anyone can edit?
Absolutely! This site is what's known as a Wiki and as such can be edited by anyone! Editing is easy and you don't even need an account! See Help:Editing for more information. This Wiki is a continuous work in progress, it currently only has 28 Six Feet Under-related articles so all contributions are greatly appreciated!
Love Six Feet Under? Why not create an account and join the community!
Get Involved! Enter the name of a character, episode or anything else Six Feet Under related into the box below and click "create" to create a page on the Six Feet Under Wiki.
Who is your favorite of the Fisher Clan?